Huawei has come a long way in the past few years. They are now one of the top smartphone manufacturers in the world. With this success, they have decided to venture into the tablet market with their Matepads, such as the T 10S. Is the Huawei Matepad T 10S a good tablet option for anyone looking for an affordable and powerful device? Is it worth buyingKeep reading, let's take a look at how it performs.
Design
The Huawei Matepad T 10S is a high-quality tablet that offers users a great experience. It has a sleek design and is lightweight, making it easy to carry with you on the go. The tablet also has stylus support, making it a great choice for those who want to be able to use a stylus with their tablet. The Matepad T 10S is available in one color: Deep Sea Blue.
Display
The Huawei Matepad T 10S also features a large 10.1-inch IPS LCD display with a resolution of 1200 x 1920 pixels, giving you plenty of space to work, play, and watch your favorite content. The 16:10 aspect ratio is perfect for viewing movies and TV shows, and the 224 ppi density ensures that everything looks crisp and clear. And with Huawei's Eye Comfort Mode, you can enjoy your content for hours without strain or fatigue.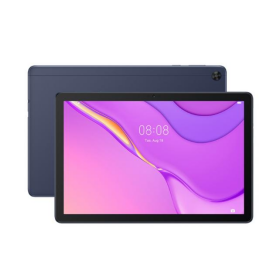 Functions
The Huawei Matepad T 10S is a great tablet for those who want a reliable and affordable option. It runs on Android 10 and has EMUI 10.1 installed, providing a familiar interface and plenty of features and customization options. There's no Google Play Services installed, but this shouldn't be an issue for most users.
The Kirin 710A chipset provides decent performance, The Mali-G51 GPU is good for gaming and other graphics-intensive tasks. Constructed with a powerful octa-core processor and 4GB of RAM, the Matepad T 10S provides exceptional speed and reliability whether you're streaming movies, playing games, or browsing the web, while the 5100mAh battery ensures that you can stay connected for hours on end. On top of that, the Matepad T 10S comes equipped with WiFi and Bluetooth connectivity, GPS navigation, and a USB Type-C port for easy charging and data transfer. The tablet also has 2G, 3G, and 4G connectivity, so you can always stay connected. Plus, with 64/128 GB of ROM, you'll be able to keep all your favorite files and photos close at hand. In addition, e-book mode, dark mode and intelligent adjustment of light make reading more comfortable.
Camera
The Huawei Matepad T 10S features a powerful 5 MP camera and 1080p video recording capabilities that takes great photos and videos, and also has HDR and panorama features for even better results. The tablet also includes a handy 2 MP front-facing camera for video chat and selfies. The device is equipped with stereo speakers that are tuned by Harman Kardon for an immersive audio experience.
Verdict
Overall, the huawei matepad t10s is a great device. The design is sleek and professional, the performance is excellent, and the battery life is stellar. This tablet would be perfect for business professionals or students who need a powerful device that can handle multiple tasks at once. If you're looking for a tablet that can do it all, the Huawei Matepad T 10S is definitely worth considering. We highly recommend the Huawei Matepad T 10S to Huawei Fans.